Trinity Diagnostic And Imaging Research Centre in Jp Nagar 2nd Phase boasts of a state-of-the-art centre, which is fully equipped with modern diagnostic equipment. From the time service-seekers walk in, they find themselves in a healthy and hygienic environment and also at the hands of a knowledgeable team, available to assist and guide with the procedures.
This highly successful team is lead by the renowned Interventional Cardiologist Dr. B.G. Murlidhara, who has the vision to mix and match the cutting edge technology with compassionate patient care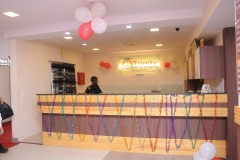 Recognition and Tie Ups
Trinity's Firsts (Also First in Karnataka)
Trinity's Firsts (Also First in Karnataka)
Recognition and Tie Ups
 All Leading Insurance TPAs like T.T.K. Health Care,
 Mediassist Paramount Health Care, Family Health Plan etc.,
 Central Government health Scheme (CGHS)
 BSNL, FCI, Central Warehousing Corporation,
 NIMHANS, NAL, ISRO, CMTI, Karnataka State Government Employees Ayogya Bhagya Yojane,
 BMTC, KSRTC, KPTCL & BESCOM.
Trinity's Firsts (Also First in Karnataka)
Trinity's Firsts (Also First in Karnataka)